Pastels are In Trend for Spring! Here's How You Can Incorporate them into Your Beauty Routine
Come spring, we often think of fresh skin, bright color, and whimsical finishes; it is a time when winter trends transition into something lighter and perkier. The arrival of spring 2022 seems to be accompanied by a massive comeback of pastel palette – a homage to the 1980s. With spring season right around the corner, it is time to break free from mundane skin tones and dive straight into the colorful world of pastel looks!
Brighten up your beauty bag and get ready for a kaleidoscopic blast of colors with arresting pastel shades of soft pinks, pale turquoise, pistachio greens, light lavenders, butter yellows, and many more. The best thing about pastels is that they are cordial – from lilac frosted lips to a different rainbow shade on every nail, there's a way for even the most au-naturale of beauty lovers to adopt this joyful, multi-colored make-up trend. This spring, there's a pastel shade for everyone.
Here is how you can ace these looks like a pro this season!
1. Nail it in Spring 2022!
Pastel colors smoothly blend with skin tones because of their lustrous, dewy texture giving the nails an elegant and chic look. While the skin looks brighter with blueish hues, pale skin becomes alive with pink shades. So, step out of the predictable neutrals, pick a color of your choice and have fun experimenting with various hues, shades, and designs.
2. Throw a little Pastel Shade
Opting for a pastel, as opposed to the traditional charcoal hues, is undoubtedly a funkier play on the look. Pack your eyelids with whatever pastel color you like until you reach the desired intensity. Blend the eyeshadow out and upwards to create a gradient effect, or you can take another deeper pastel shade in the same family or go bold with a different shade of pastel for a contrasting look. Combine your pastel-colored eye shadow with mascara and black kohl to add more sparkle.
3. Plump up your Lips
Lips are certainly an essential element of a facial portfolio, and using pastels can bring lots of attention to the mouth. Therefore, choosing the right lip shade that blends with other colors is a must. There are various options to try out – from chalky peaches and pale browns to lustrous pinks and frosted blues. Make sure to play with contrasting colors!
4. Peak the Cheek
Whisper soft pink hues pop up your cheeks by contouring them with a jazzy combination of pale and brilliant pastels. This will provide the cheekbones with a dreamy, delicate look – plus, who can resist a soft cheek blush, right?
We bet you didn't think of pastels this way! Now, go ahead and embrace the art of soft shades!
YOU MIGHT ALSO LIKE:
Pastel Nails Will Give You All The Dreamy Vibes this Spring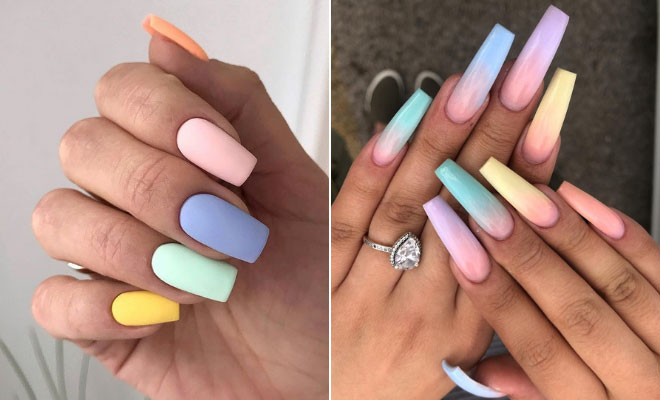 Please follow and like us: